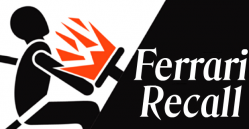 — Ferrari is recalling more than 1,000 model year 2013 California, 458 Italia, 458 Spider, FF and F12 Berlinetta vehicles if they were sold or ever registered in the following states:
Alabama, California, Florida, Georgia, Hawaii, Louisiana, Mississippi, South Carolina, Texas, Puerto Rico, American Samoa, Guam, the Northern Mariana Islands (Saipan) and the U.S. Virgin Islands.
The recall is part of an expanded Takata airbag recall of 3.3 million vehicles affecting numerous automakers.
The Ferrari passenger airbags are at risk of exploding due to a combination of age, moisture and the condition of the metal inflators. At least 21 people have been killed worldwide and more than 200 injured.
As of November 2017, 19 automakers had recalled about 46 million Takata inflators in about 34 million vehicles. By 2019, as many as 70 million Takata inflators will have been recalled in the U.S.
The Takata airbag recall should begin March 9, 2018. Ferrari dealers will replace the frontal passenger airbag assemblies, but owners with questions should call 866-551-2828 and ask about recall number 63.
Keep up with the latest airbag news by checking out the CarComplaints.com Takata consumer guide.