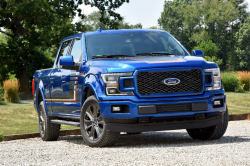 — Ford is recalling more than 1.6 million model year 2015-2018 Ford F-150 Regular Cab and SuperCrew Cab trucks in the U.S. after 17 reports of fires in the U.S. caused after the seat belt pretensioners deployed in crash incidents. Another 339,884 trucks are recalled in Canada and 36,780 will be repaired in Mexico.
In addition to the 17 fires in the U.S., Ford says six fires have been reported by F-150 drivers in Canada, although no injuries have been caused by the fires.
The automaker says a front seat belt pretensioner deployment can cause an excessive amount of sparks from the pretensioner devices and ignite the carpet, insulation and material inside the B-pillar areas.
Some reports say the fires went out on their own or were localized, while other reports say the fires spread.
Between April and October 2017, Ford knew of four reports of localized interior fires that occurred on 2015-2016 F-150s after the seat belt pretensioners deployed. An investigation on the four trucks was opened that focused on the front seat belt pretensioners (both retractor and lap anchor), electrical wiring, insulation and carpeting.
However, no problems were discovered and engineers couldn't replicate the fires.
In November 2017, Transport Canada contacted Ford concerning a B-pillar fire on a 2015 F-150, then between January and March 2018, Ford received five more reports of fires in the B-pillar areas.
Three of those fires occurred in 2018 models, confusing engineers even more because the front seat belt retractor and lap anchor pretensioners in 2018 F-150s are from a different supplier than those installed in 2015-2017 trucks.
Joyson (previously Takata) made the subject components for 2015-2017 F-150s, and ZF manufactured the components for 2018 Ford F-150s.
Six more reports of fires came in between April and June 2018, finally leading engineers to determine the ignition source wasn't electrical. Ford was also joined by the National Highway Traffic Safety Administration (NHTSA) after the government contacted the automaker about three fire reports.
Multiple tests finally caused Ford to conclude gases from the deployed pretensioners could be ignited by excessive sparks in the B-pillar areas.
Ford dealers will remove the B-pillar insulation material and wiring harness tape and install heat resistant tape when the recall begins September 24, 2018.
F-150 owners with concerns should call Ford at 866-436-7332. Ford's recall number is 18S27.
CarComplaints.com has owner-reported complaints about Ford F-150 trucks.