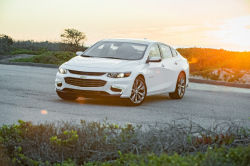 — General Motors is recalling 66 model year 2016-2018 Chevrolet Malibu cars because they may fail to identify when an adult is sitting in the front passenger seat.
The problem is caused by a "passenger presence system" that wasn't calibrated to the car's seat type, causing a failure to read the difference between an adult or child in the front passenger seat.
An adult in the seat would normally cause the airbag to deploy in a crash. But the airbag won't deploy if the system misidentifies a child in the seat.
GM doesn't know when the Malibu recall will begin, but Chevy dealers will replace the front passenger presence system service kits.
If you own a 2016-2018 Chevy Malibu and want more info, call GM at 800-222-1020 and ask about recall number 18208.
Read any complaints CarComplaints.com has about the 2016 Chevy Malibu, 2017 Malibu and 2018 Chevy Malibu.