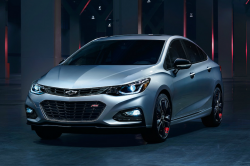 — About 112,000 model year 2016-2018 Chevy Cruze LS cars are recalled if equipped with gasoline engines and tire inflator kits in place of spare tires.
General Motors says the gas tank may leak and cause a fire in a rear-impact and rollover crash.
GM conducted crash testing in March 2018 on a new pre-production 2019 Chevrolet Cruze LS and noticed liquid leak during a rear-impact barrier test that was followed by a rollover. The amount of liquid that leaked was above maximum levels allowed to meet federal safety standards.
The automaker opened an investigation based on the crash test results and a search of field data found no reports of leaking fuel.
Another crash test was conducted, except this time a current model Chevy Cruze equipped with a tire inflator kit was tested and engineers got the same fuel leak results that were above maximum legal levels.
Engineers finally determined the vapor pressure sensors attached to the fuel tanks in these cars may contact the rear floor panels in a severe rear-impact crash.
General Motors doesn't know when the Cruze LS recall will begin, but dealers will eventually install lock rings on the gas tanks that will shield the fuel tank vapor sensors from being damaged in rear-impact crashes.
Owners may contact Chevrolet customer service at 800-222-1020. GM's number for this recall is 18159.