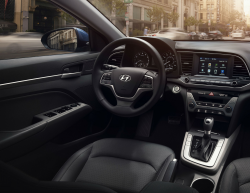 — A Hyundai power steering lawsuit won't be certified as a class-action after a California judge ruled differences in state laws prevent that option.
The lawsuit includes 2013-2016 Hyundai Accents and 2013-2016 Hyundai Elantras that allegedly lose power steering without warning. The plaintiffs, Houston Vinci and Jaehan Ku, claim Hyundai had similar power steering problems in Sonata cars that caused a 2016 recall of more than 173,000 of those vehicles.
The Sonata recall was issued after Hyundai noticed warranty claims about steering problems and collected affected parts for study. Engineers found a circuit board in the electronic power steering unit was changed by the manufacturer in 2010.
The modifications apparently damaged the circuit boards so severely that drivers lost power steering. The only warning a driver would have is an illuminated warning light that activates when the power steering fails.
Plaintiff Houston Vinci says the problem was so bad on her 2013 Accent that she crashed the car because the power steering failed.
Plaintiff Jaehan Ku alleges a loss of power steering caused his Elantra to crash in 2016, but the plaintiff also claims the brakes failed when the power steering went out.
Both plaintiffs say they wouldn't have purchased the vehicles if Hyundai would have warned them about the alleged steering issues. In addition, both plaintiffs claim repeated trips to dealers did nothing.
Hyundai's motion to dismiss argues the lawsuit shouldn't be certified as a class-action because state consumer protection laws are different from California laws, and the judge agreed.
California Judge David Carter ruled previous state courts have made it clear a nationwide class-action is out of the question due to differences in various state laws. The judge found that each plaintiff's individual claims must be governed by the laws of their home state.
The judge says Hyundai showed there are differences in warranty and unjust enrichment laws, as well as consumer protection and concealment laws, differences too large to overcome by a class-action lawsuit.
The plaintiffs are from Oregon and the judge ruled they can bring claims under Oregon laws, but not under California's consumer protection and unfair competition laws.
The judge also dismissed claims that Hyundai violated the California False Claims Act, but did leave the plaintiffs with the right to proceed with claims under the Oregon Unlawful Trade Practices Act.
According to court documents, the plaintiffs have until April 30, 2018, to amend the lawsuit to identify which state laws they rely upon.
The Hyundai power steering lawsuit was filed in the U.S. District Court for the Central District of California - Houston Vinci and Jaehan Ku, et al., v. Hyundai Motor America, et al.
The plaintiffs are represented by Faruqi & Faruqi LLP, Leeds Brown Law PC, Sultzer Law Group PC, and Walsh LLC.