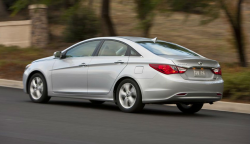 — Hyundai is recalling 173,000 Sonata mid-size cars at risk of losing their power steering assist. The 2011 Sonatas are equipped with electronic power steering circuit boards that may be damaged, something that Hyundai discovered after continued warranty claims about power steering problems.
The Sonata has an electronic power steering (EPS) that uses a magnetic torque sensing device inside the steering column used as an input to the EPS to determine how much power steering assist is required.
Hyundai opened an internal investigation into reports of warranty claims about the steering columns and started collecting parts to analyze. It took some time because the parts were in the U.S. and had to be sent to Korea for analysis.
In January 2016, Hyundai determined the printed circuit board in the EPS unit was modified by the manufacturer in October 2010, a change that can cause damage to the circuit board. A Sonata owner would first see a power steering warning light and then a sudden loss of power steering.
The recalled Hyundai Sonatas were built December 11, 2009, to October 31, 2010.
The Sonata power steering recall should begin May 30, 2016. Hyundai dealers will replace the electronic power steering control unit, but until then owners with questions can call 855-371-9640 and make reference to recall number 143.
Read complaints about steering problems in the 2011 Hyundai Sonata.