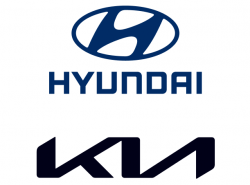 — A Hyundai and Kia theft fix has been announced which will provide free software updates to allegedly prevent teenagers from illegally but easily stealing the vehicles.
The vehicles are not equipped with push-button ignitions and are not equipped with immobilizers.
Teenagers began posting online videos about how to steal Hyundai and Kia vehicles using simple tools to bypass the security systems. The videos show how to break into a Hyundai or Kia vehicle and use a USB cord and a screwdriver to start the vehicle.
In several incidents, (including this one), the teenage criminals were arrested after crashing stolen vehicles and then immediately released, only to steal more Hyundai and Kia vehicles.
According to the National Highway Traffic Safety Administration, at least 14 crashes and eight fatalities have been caused by stolen Hyundai and Kia vehicles.
According to Hyundai, an immobilizer is "an electronic security device that prevents a vehicle from starting unless the correct key or fob is used."
Engine immobilizers are not required in the U.S., and Hyundai and Kia point out all the vehicles meet federal regulations. However, all Hyundai vehicles built since November 2021 are equipped with engine immobilizers.
More than 8 million Hyundai and Kia vehicles are eligible for free software updates in phases over several months.
"The software upgrade modifies certain vehicle control modules on Hyundai vehicles equipped with standard "turn-key-to-start" ignition systems. As a result, locking the doors with the key fob will set the factory alarm and activate an "ignition kill" feature so the vehicles cannot be started when subjected to the popularized theft mode. Customers must use the key fob to unlock their vehicles to deactivate the "ignition kill" feature." — Hyundai
The Hyundai and Kia software will update the theft alarm so it sounds for one minute and the key must be in the ignition to start the vehicle. Every Hyundai customer can also receive a window sticker to warn thieves the vehicle is protected against theft.
The Hyundai vehicles which are eligible for the theft software updates:
2017-2020 Hyundai Elantra
2015-2019 Hyundai Sonata
2020-2021 Hyundai Venue
2018-2022 Hyundai Accent
2011-2016 Hyundai Elantra
2021-2022 Hyundai Elantra
2018-2020 Hyundai Elantra GT
2011-2014 Hyundai Genesis Coupe
2018-2022 Hyundai Kona
2020-2021 Hyundai Palisade
2013-2018 Hyundai Santa Fe Sport
2013-2022 Hyundai Santa Fe
2019 Hyundai Santa Fe XL
2011-2014 Hyundai Sonata
2011-2022 Hyundai Tucson
2012-2017, 2019-2021 Hyundai Veloster
To date, Kia has not announced which vehicles are included.
Hyundai has warned some 2011-2022 vehicles without engine immobilizers cannot accept the theft software updates. But the automaker will reimburse customers for steering wheel locks and soon contact those customers with more details.
Hyundai customers with questions may call 800-633-5151, and Kia owners should call 800-333-4542.
A customer can also input their vehicle identification number at www.hyundaiantitheft.com.