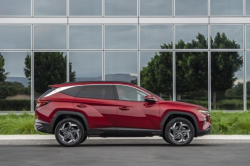 — Loose Hyundai roof trim has caused a recall of 2022 Hyundai Tucson and 2022-2023 Hyundai Santa Cruz vehicles because the roof trim may detach.
Hyundai says more than 16,000 vehicles are recalled because the trim can detach due to weak tension between the roof body flange and roof trim mounting clips.
Hyundai Tucson and Hyundai Santa Cruz drivers should be aware of wind noise coming from the roof and lifting or misalignment of the trim.
Hyundai expects to mail recall letters April 1, 2023. Hyundai dealerships will secure or replace the roof trim.
Hyundai Tucson and Hyundai Santa Cruz owners who have questions should call 855-371-9460.
Hyundai's roof trim recall number is 241.