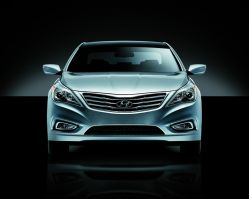 — Hyundai is recalling about 88,000 model year 2006-2011 Hyundai Azera and 2006 Hyundai Sonata cars because the engine compartments may catch on fire.
Hyundai blames the problem on water that can enter the anti-lock braking modules and cause electrical shorts.
In December 2016, Hyundai received a report from Korea alleging an ABS module that overheated, causing the automaker to look for a trend in complaints and reports. No trend was found, but warranty reports were checked in Korea and by May 2017 numerous returned parts were analyzed. However, Hyundai could find no evidence of defects.
In June, Hyundai received a report from the U.S. about an illuminated warning light and smoke inside the engine compartment. The parts were collected and Hyundai worked with the supplier, Hyundai Mobis, to determine what was happening.
Engineers found evidence of an electrical short inside the ABS module potentially caused by water leaking into the module and made worse because the module remains powered on when the vehicle is turned off.
Hyundai says it is unaware of any crashes or injuries related to the modules, but told the government additional monitoring will occur after the cars are "fixed."
The Hyundai Azera and Sonata recall should begin February 23, 2018. Dealerships believe they can prevent electrical shorts and fires by installing relays in the main junction boxes.
Hyundai says this will hopefully at least keep the modules from overheating and catching on fire when the cars are turned off. Hyundai didn't say anything about the possibilities of harm while the vehicles are running.
Owners may call Hyundai at 800-633-5151 and use recall number 172.
CarComplaints.com has complaints about the Hyundai Azera and Hyundai Sonata, along with numerous other Hyundai models.