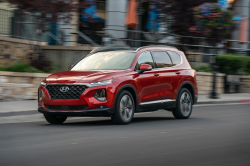 — A 2019 Hyundai Santa Fe recall is needed to repair problems that can damage the side curtain airbags when they deploy, preventing the airbags from protecting the occupants.
The damage can come from side curtain airbag mounting bolts manufactured with sharp corners on the hexagonal bolt heads.
Hyundai says more than 8,200 Santa Fe SUVs need protective covers over the installation bolts to make sure the side airbags properly deploy.
Hyundai found a torn side curtain airbag during a European crash test in August 2018 and initially believed the airbag mounting bolts may have interfered with the correct deployment of the airbag.
The automaker went back and searched past crash test records but found no instances of torn side curtain airbags. But internal tests were conducted and engineers replicated the airbag damage caused by the mounting bolts.
Hyundai says it switched to rounded bolt heads in production beginning August 20, 2018. In addition, no crashes or injuries have been reported related to the faulty bolts.
The Hyundai Santa Fe recall will begin November 30, 2018, but owners with questions may call the automaker at 855-371-9460 and refer to recall number 177.
CarComplaints.com has owner-reported complaints about Hyundai Santa Fe SUVs.