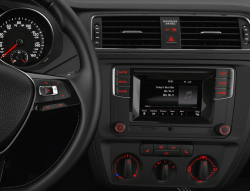 — According to the AAA Foundation for Traffic Safety, a car infotainment system will demand the attention of a driver as much as trying to balance a checkbook while driving.
AAA researchers worked with well-known safety researchers at the University of Utah, a leader in distracted driving studies.
Ratings were determined by measuring demands that took eyes off the roads, the mental demand of using the infotainment systems and how long it took drivers to complete their tasks.
Researchers classify the infotainment systems as causing low, moderate, high and very high demands on drivers.
Out of the latest 10 vehicles tested, none of the infotainment systems cause "low" demands on drivers, equated with listening to the radio or an audiobook. But six systems create "very high" demands on drivers equal to trying to balance their checkbooks while driving.
Considering you double your risk of crashing if you take your eyes off the road for just two seconds, the infotainment results are depressing for highway safety.
Researchers learned that performing navigation tasks can take your attention away for 48 seconds. But at just 25 mph, a vehicle could travel the length of three football fields before a driver would bring their attention back to the road.
Amount of demand on a driver due to the infotainment system
Moderate
2018 Chevrolet Silverado 1500 LT
2018 Kia Sportage LX
2018 Kia Optima LX
2018 Ram 1500 Laramie
High
Very High
2018 BMW 430i xDrive Convertible
2017 Buick Enclave Leather
2017 Land Rover Range Rover Sport HSE
2017 Mercedes-Benz C300 Limited
2017 Nissan Rogue SV