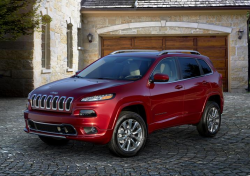 — Fiat Chrysler (FCA US) has issued three recalls affecting less than 800 SUVs and minivans, with almost all the vehicles recalled due to problems with the halfshafts.
2018 Jeep Cherokee Recall
The majority (702) of the recalled vehicles are 2018 Jeep Cherokee all-wheel-drive SUVs with right front halfshaft bearing cages that didn't receive the proper heat treatments. A broken bearing cage will allow the Cherokee to roll away even if the gear shifter indicates the transmission is in PARK.
Chrysler says a Jeep Cherokee was brought into a dealer after the owner complained about a clicking noise coming from the front right of the SUV in February 2018. The owner also reported the Cherokee sometimes surged or stalled.
The SUV was road tested and a broken right front halfshaft was replaced. Engineers inspected the failed halfshaft and found the bearing cage wasn't up to specification concerning heat treatment of the part. The supplier determined improper heat treatments of the bearing cages had occurred between October 24 and October 25, 2017.
FCA says it is unaware of any crashes or injuries that may be linked to the halfshafts or bearing cages.
Jeep dealers will replace the front right halfshaft assemblies when the recall begins September 14, 2018. Jeep Cherokee owners with questions should call 800-853-1403 and ask about recall number U78.
2018 Chrysler Pacifica Recall
Halfshaft problems have also caused a recall of 61 model year 2018 Chrysler Pacifica minivans with front axle halfshafts that may not been manufactured correctly. This can prevent the halfshaft from being secured to the constant velocity (CV) joint.
The minivan will lose propulsion or move while in PARK if the axle shaft disengages from the CV joint.
Chrysler dealers will replace the left or right halfshaft assemblies when the recall begins September 14, 2018.
Chrysler Pacifica minivan owners with questions should call the automaker at 800-853-1403. Chrysler's number for this recall is U80.
2019 Jeep Cherokee / 2018 Chrysler Pacifica Recall
The automaker is also recalling five model year 2019 Jeep Cherokees and 2018 Chrysler Pacifica minivans because components in the transmissions may not have been welded properly, possibly causing failures of the transmissions to power the wheels. Complete failures of the welds will cause the vehicles to stop moving.
The SUV and minivan recall should begin September 14, 2018, when dealers will replace the transmissions.
Owners may contact Chrysler at 800-853-1403 and refer to recall number U85.
CarComplaints.com has complaints from drivers of the Jeep Cherokee and Chrysler Pacifica.