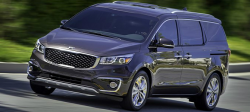 — More than 106,400 model year 2015-2018 Kia Sedona minivans have power sliding doors that could automatically close on objects located between the sliding doors and the minivans.
The power sliding door module controls the sensor that is located in the interior door well and detects movement while the sliding door closes.
Kia and the supplier determined the original programming of the module is set to a threshold level that can fail to detect objects in the path of the door sliding closed. This will prevent the automatic stop and reversal feature from doing its job.
In September 2017, Kia was looking at field data and found 17 customer complaints about power sliding doors that didn't detect obstructions in 2015-2017 Sedona. Engineers inspected the minivans and found the doors worked as intended, so Kia decided to monitor the field for additional complaints.
In addition, the automaker opened an internal investigation by using a 2017 Sedona and this time did find problems that depended on what the obstruction was and where it was located between the door and the body of the minivan.
However, engineers said they had trouble replicating their own results and couldn't find any customer complaints from markets outside the U.S.
Then in January 2018, Kia received a complaint about an alleged injury caused by a sliding door and engineers again determined the problem could be caused under certain conditions but not others.
The automaker went to work with the supplier of the power sliding door control modules to create updated software that would lower the sensitivity thresholds for the doors.
Kia decided to issue the recall in May after receiving 21 complaints about the sliding doors, with 14 of those complaints alleging injuries. However, the automaker says it confirmed only two of those injuries.
The 2015-2018 Sedona minivan recall will begin June 18, 2018. Kia dealers will reprogram the power sliding door module software, but owners with questions are welcome to call 800-333-4542.
Kia's number for this recall is SC164.
CarComplaints.com has owner-reported complaints about the recalled minivans:
Kia Sedona - 2015 / 2016 / 2017 / 2018 / All model years