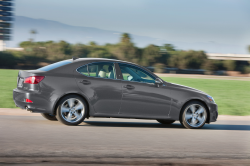 — Lexus is recalling about 115,000 IS and GS vehicles in the U.S. to repair potential problems with leaking fuel and fires.
The automaker says the recalled vehicles include the 2006-2013 Lexus IS 350, 2010-2014 Lexus IS 350C, 2007-2011 Lexus GS 350 and Lexus GS 450h.
The vehicles are equipped with 3.5-liter V6 gasoline engines with diaphragm material in the fuel pulsation dampers that may harden over time and crack. This will cause gas to leak and any gas near an ignition source can cause a fire.
The National Highway Traffic Safety Administration (NHTSA) hasn't released details about the recall, but Lexus says dealers will install new fuel delivery pipes that contain improved pulsation dampers.
Customers should watch for mailed notices in August 2018, but with questions owners should call 800-255-3987.
CarComplaints.com will update this page when NHTSA publishes details about the Lexus recall.
Read complaints from owners of the Lexus IS 350, Lexus GS 350 and Lexus GS 450h.