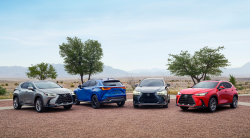 — A 2022 Lexus NX recall involves about 4,700 SUVs because the front shocks may be missing welds where the shock absorbers are mounted to the body panels.
The 2022 Lexus NX and NX Hybrid shock absorbers may separate from their mounting areas and cause a loss of stability.
The Lexus NX vehicles have body panels spot-welded to the left and right front shock absorber mounting areas, but during manufacturing some of the welds may have been missed.
This can cause cracks and breaks on the other spot welds or on the body panels around the front shock absorber mounting areas.
With the addition of time and mileage use, this could cause a front shock absorber to separate from the mounting area and cause a driver trouble controlling the vehicles.
About 500 of the recalled Lexus NX SUVs are in Canada, and dealerships plan on inspecting the welding around the shock absorber mounting areas.
Lexus is working on what dealers will do if there are missing welds.
Lexus NX recall letters will be mailed in June 2022.
Lexus NX and NX Hybrid owners with questions should call 800-255-3987. The Lexus recall number is 22LA02.