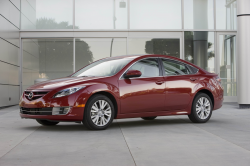 — Mazda6 subframe failures will be investigated by the government after 2009-2010 Mazda owners continue to complain about corrosion problems that affect the subframes.
The National Highway Traffic Safety Administration (NHTSA) has received 20 complaints about subframe failures that caused drivers trouble when trying to keep the cars under control.
Two of those corroded subframe complaints came from 2009 Mazda6 drivers.
"Purchased this car in 2014 used. I didn't notice it until I drove it off the lot. Well used vehicles come with no warranty as is. Yay me." - Round Rock, Texas
"This is of great concern and could be very expensive to repair. May have to sell the car which, otherwise, is in very good condition." - Sea Isle City, New Jersey
The owner of a 2010 Mazda6 said they finally figured out why they couldn't control the car.
"On Wednesday, May 24th the sub-frame of this car broke while my daughter was driving it. We did not know at the time that it was the subframe. All we knew was that there was no control of the car as it was being driven."
The owner went on to say the repair facility was surprised the subframe broke on an 8-year-old car that had been well maintained.
Mazda6 owners report severe corrosion in the right rear corner of the subframes that can cause the right steering rack mounting bolts to fail. In addition, the lower control arm mounts can separate from the subframes.
NHTSA says 13 Mazda6 owners specifically complained about subframes that broke while driving and caused problems with handling the cars, and safety regulators note the trend is increasing.
Another five people claim they found severe corrosion of the subframes before they failed, in some cases during routine oil changes.
A preliminary evaluation has been opened into subframe corrosion in more than 84,500 model year 2009-2010 Mazda6 cars.
CarComplaints.com will update our website with results of the federal investigation.