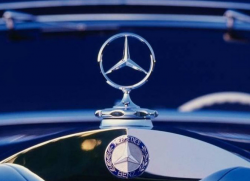 — According to a German media report, U.S. emissions regulators allegedly found Mercedes-Benz used illegal software to pass emissions tests.
The report, from Bild am Sonntag, claims investigators discovered something called "Slipguard," engine management software used to fool U.S. emissions test machines.
The program can allegedly interpret when a vehicle is undergoing testing and make changes to the use of a legal chemical called Adblue to decrease nitrogen oxide emissions.
In addition to Slipguard, a program known as "Bit 15" had the job of turning off emissions controls after 16 miles of driving. Because the diesel systems were allegedly altered, Mercedes vehicles emit up to 10 times as much nitrogen oxides as allowed by law.
The German paper said it saw evidence that engineers from Mercedes-Benz sent internal emails asking about how the emissions software worked in the scheme of U.S. standards.
Mercedes responded to the news by saying regulators haven't filed a complaint against the automaker even though investigators are aware of the reports. Mercedes says it looks like the German paper was intentionally tipped off about the documents for the sole reason of hurting the automaker and its employees.
The automaker says it continues to work with the U.S. after investigations and lawsuits were filed against Mercedes.
One of those lawsuits alleges BlueTEC diesel engines emit illegal levels of nitrogen oxides, but the judge dismissed the case after determining the plaintiff couldn't provide the necessary evidence.
In 2017, German auto supplier Bosch was investigated by German prosecutors to determine if the supplier worked with Mercedes-Benz to manipulate diesel emissions tests. Prosecutors specifically targeted Bosch to determine if the company supplied engine management software for Mercedes-Benz as Bosch did for Volkswagen.