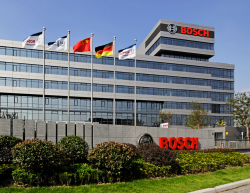 — Attorneys who prosecuted parts manufacturer Bosch in the Volkswagen emissions scandal will receive $51 million in fees and another $1 million in costs for the role the legal team played in the settlement against Bosch.
The judge didn't have a problem awarding that amount to attorneys because the court said VW owners received good deals in the settlement.
The settlement with Bosch will see the company pay $327.5 million for designing the software VW used to cheat on diesel emissions tests for years, with $163.2 million split among 2-liter diesel owners and $113.3 million split between 3-liter owners.
As for Bosch, the company is in quicksand as it fights allegations of supplying automakers with the "defeat device" software that fooled emissions tests for years. The parts supplier first started taking heat in 2015 when lawsuits against Volkswagen started including Bosch in court documents alleging the company knew it was breaking laws.
One suit filed in 2015 accuses Bosch of being a co-conspirator with Volkswagen by supplying the parts for VW's diesel engines. The lawsuit alleges Bosch had warned VW in 2007 that using the emissions software was illegal yet Bosch still sold the automaker the necessary parts for years.
According to the lawsuit, Bosch should have told Volkswagen that it wouldn't receive any emission-related parts until VW proved the vehicles were legal, but instead chose to partner with VW in the scheme.
Another lawsuit was filed in 2016 that alleges it is "inconceivable" that Bosch was ignorant the emissions software it sold to Volkswagen didn't contain an illegal defeat device.
Bosch is also named as a defendant in two additional U.S. lawsuits, one filed by the government. In a May 2017 lawsuit, the U.S. Justice Department alleges Fiat Chrysler worked with Bosch in equipping 104,000 Ram 1500 and Jeep Grand Cherokee SUVs with illegal emissions software.
Also in May, General Motors learned of a lawsuit that alleges about 700,000 model year 2011-2016 Chevrolet Silverado Duramax and GMC Sierra Duramax diesel trucks that allegedly emit too much nitrogen oxides. The Duramax lawsuit names Bosch as a defendant that allegedly worked with GM in manufacturing the electronic diesel control units that allowed GM to activate the illegal defeat devices.
Bosch may be taking a legal beating in the U.S., but the German company also has problems in its own backyard as German prosecutors are looking at Bosch to determine if the supplier worked with Daimler to manipulate diesel emissions tests.
Prosecutors opened the investigation into the actions of Bosch in supplying engine management software for Mercedes-Benz cars after suspecting Daimler, who owns Mercedes, may have used defeat devices. Specifically, German prosecutors are investigating if individuals at Bosch worked in conjunction with Daimler to commit fraud against regulators and customers.
Bosch was pulled into the matter after prosecutors searched Daimler's facilities for evidence that "known and unknown" employees committed fraud and false advertising while manipulating diesel vehicles.
The parts supplier can add the Daimler investigation to a current investigation initiated by Germany concerning the role Bosch played in Volkswagen's emissions exploits.