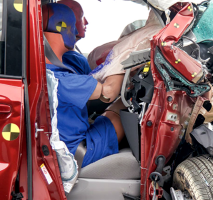 — Minivan crash test ratings for 2018-2019 models show automakers have taken notes about improvements they needed to make to achieve better crash ratings, although the Toyota Sienna needs more work on its structural performance.
The Institute for Highway Safety (IIHS) tested the Toyota Sienna, Chrysler Pacifica and Honda Odyssey to determine how well the minivans handle a tough crash test called the small overlap test.
In this case, IIHS wanted to learn how well the passenger-side occupant is protected when the front corner of the minivan strikes another object such as a tree, utility pole or another vehicle.
Vehicles are rated as good, acceptable, marginal or poor in the small overlap crash test that started in 2012 for driver-side occupants and later expanded to include front passengers.
According to IIHS, the Pacifica earns an acceptable rating and the Odyssey earns a good rating, but the Toyota Sienna earns an overall "marginal" rating due to structural issues.
Toyota had modified the Sienna to improve protection for drivers but didn't make the same improvements for front passengers, a fact clearly seen in the crash test.
IIHS says the Sienna earns a "poor" rating for its passenger-side structure because as much as 20 inches of intrusion occurred in the lower occupant compartment for the front passenger. In addition, there were more than 16 inches of intrusion of the structure at the dashboard.
The sophisticated crash test dummy suffered injuries to its legs, but researchers noted a human occupant would likely sustain both hip and lower leg injuries.
Although not as severe as the Sienna, the Chrysler Pacifica had issues with intrusion of the structure but the test dummy measured a low risk of injury. The Honda Odyssey earns an "acceptable" rating for its structure as researchers determined the occupant compartment held up well.
The Institute says none of the minivans showed any performance issues with seat belts or airbags, unlike certain SUVs recently tested by the safety organization. However, researchers say the affected automakers do need to focus more on structural deficiencies for front passengers.