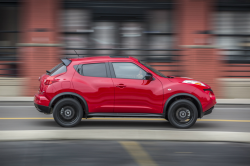 — Nissan has told a federal judge a continuously variable transmission lawsuit should be dismissed because the plaintiff's arguments don't warrant a class-action lawsuit, especially concerning vehicle warranties.
Plaintiff U Can Rent LLC purchased nine 2013 Sentras, one 2013 Nissan Juke and four 2014 Nissan Jukes that allegedly suffered from continuously variable transmissions that shuddered and shook before the vehicles had 20,000 miles on the odometers.
According to the lawsuit, paying thousands of dollars for replacement transmissions does nothing because Nissan allegedly replaces the damaged transmissions with the same defective continuously variable transmissions.
The lawsuit references a Nissan extended warranty program called the "CVT Customer Satisfaction Program," but the plaintiff claims the automaker left out multiple vehicles that should have been included in the program.
The plaintiff also claims the affected vehicles routinely experienced delays in shifting, revving engines and the feeling of downshifting while driving. But complaining to Nissan dealers allegedly did no good because technicians said the transmissions were working correctly and just going through a break-in period.
Because Nissan has issued numerous technical service bulletins to dealerships about drivers complaining about the continuously variable transmissions, the plaintiff says this is an admission the automaker has known about the problems for years.
According to the lawsuit, Nissan should have saved customers a lot of time and money by recalling the affected vehicles and fixing the transmissions.
While the plaintiffs claim Nissan reneged on its warranties and refused to pay for repairs to the continuously variable transmissions, the automaker told the judge that customer complaints don't allege material or workmanship violations.
According to attorneys for Nissan, the plaintiff may in fact be alleging defects in the design of the vehicles, something not covered by the warranties. In addition, vehicles past the warranty periods don't qualify for warranty coverage any longer.
Nissan further argues some plaintiffs have no basis to file claims because they purchased the vehicles outside Alabama, and claims about the transmissions are one thing, but owners can't point to specific defects in the systems.
The Nissan continuously variable transmission lawsuit was filed in the U.S. District Court for the Middle District of Alabama - U Can Rent, LLC et al., v. Nissan North America, Inc.
The plaintiffs are represented by Heninger Garrison Davis LLC, and the Law Offices of Troy King.