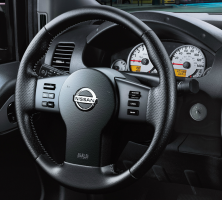 — Nissan ignition switch problems have caused a recall of more than 153,000 vehicles in the U.S. to fix switches that could move out of the "on" positions while driving.
2017 Nissan NV200
2017 Nissan Sentra
2017 Nissan NV3500 Van
2017 Nissan NV3500 Bus
2017 Nissan NV200 Taxi
2017 Nissan NV1500
2017 Nissan NV2500 Van
2017 Chevrolet City Express
2017-2018 Nissan Frontier
2017-2018 Nissan Versa Note
2017-2018 Nissan Versa Sedan
In August 2017, the ignition switch supplier (Alpha Technology Corp.) told Nissan a problem occurred during manufacturing of the ignition switch ball springs. The automaker couldn't find any incidents from the field but started an investigation with the supplier to determine potential consequences.
New tests were created for the ignition switches and how they would function on rough roads during vibrations of the vehicles. Tests were conducted using multiple keys attached to a key ring to determine how weight would play a role in the ignition switches moving while driving.
The testing indicated the combination of broken ball springs, heavy key rings and vehicle vibrations could cause the ignition switches to move out of the "on" positions.
The mechanical key ignition systems may have been equipped with ball springs which could be susceptible to excessive wear and could eventually break after about six years of normal use. Nissan says the retention force of the ignition switch will be reduced if the ball spring breaks, causing the ignition switch to move out of position.
If something like a heavy key ring is attached to the ignition key as the vehicle goes over rough surfaces, the weight of key rings and any items on it may pull the ignition switch from the "on" position to the "accessory" position.
This will cause the engine to stop running while driving, but the airbag system should still be powered through a built-in electrical capacity reserve. However, Nissan says this electrical reserve will deplete unless the vehicle is restarted.
The automaker says vehicles equipped with the Intelligent Key system are unaffected because the vehicles are not equipped with the problematic parts.
Nissan dealers will inspect the LOT numbers of the ignition switches and replace any affected switches when the recall begins in October 2018.
Owners with questions should call Nissan at 800-867-7669.