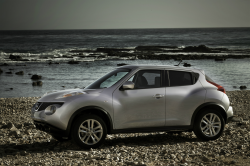 — Nissan is recalling more than 49,300 model year 2011-2012 JUKE SUVs that were originally recalled in February 2012 for identical fuel pressure sensor problems.
In the 2012 recall, Nissan said the fuel pressure sensors in the JUKEs and other models may not have been tightened properly and could loosen from heat and vibrations.
All it took for a fire was the fuel hitting an ignition source, so Nissan dealers said in 2012 they would replace the fuel pressure sensors.
Six years later and the same JUKE SUVs are recalled for the same loose fuel pressure sensors, but this time dealers have been told to tighten the sensors to the proper torque.
The National Highway Traffic Safety Administration didn't provide additional information about what happened to force a second recall, but Nissan said the JUKE recall should begin May 7, 2018.
If you own a 2011-2012 Nissan JUKE and have questions, please call the automaker at 800-867-7669.
CarComplaints.com has complaints about the 2011 Nissan Juke and 2012 Nissan Juke.