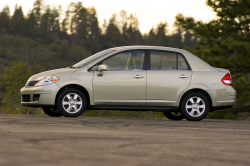 — Nissan is recalling 233 Nissan Versa cars because the passenger airbag inflators made by Takata could explode in a crash.
Nissan says the replacement inflators are manufactured without the explosive chemical ammonium nitrate, and the inflators aren't made by Takata.
The 2007-2008 Nissan Versa sedans and Versa hatchbacks are recalled only if they were originally sold or ever registered in these locations:
Alabama, Arizona, Arkansas, California, Delaware, District of Columbia, Florida, Georgia, Hawaii, Illinois, Indiana, Kansas, Kentucky, Louisiana, Maryland, Mississippi, Missouri, Nebraska, Nevada, New Jersey, New Mexico, North Carolina, Ohio, Oklahoma, Pennsylvania, South Carolina, Tennessee, Texas, Virginia, West Virginia, Puerto Rico, American Samoa, Guam, the Northern Mariana Islands (Saipan) and the U.S. Virgin Islands
Versa owners should have already received recall notices, but owners with questions may call 800-867-7669.
CarComplaints.com has complaints you can read from Nissan Versa drivers.