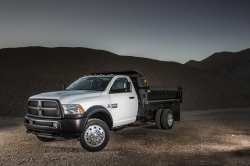 — FCA US (Chrysler) is recalling more than 2,400 model year 2018 Ram 4500 and 5500 cab chassis trucks at risk of brake fluid leaks and therefore a loss of braking.
The problem is with the ferrules (metal fasteners) used on the primary and secondary brake hoses located between the brake master cylinders and the hydraulic control units.
FCA says the ferrules may not have anti-corrosion plating to protect against water and moisture. A corroded ferrule can allow brake fluid to leak and a loss of pressure to the brakes.
Chrysler opened an internal investigation in March and determined ferrules with no anti-corrosion plating can lose an estimated 50 percent of their material gauge in about 5 years of vehicle life.
Engineers found a driver would be alerted to any pressure differences between the two brake hoses by way of an illuminated warning light.
Chrysler tracked the suspect period to January 15, 2018, when the parts were installed without the anti-corrosion plating.
The recall is scheduled to begin June 20, 2018, when dealers will replace brake hoses that are missing the anti-corrosion plating.
Ram 4500 and 5500 owners may call FCA at 800-853-1403 and refer to recall number U41.
Check out owner-reported complaints about the Ram 4500 and Ram 5500.