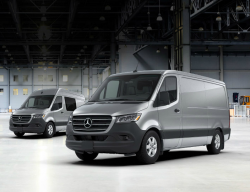 — Daimler is recalling 76 model year 2018 Freightliner Sprinter 2500 and 3500 and Mercedes-Benz Sprinter 2500 and 3500 vans because the right-side door latches have the wrong components.
When the doors are electronically unlocked the doors may not open from the inside or from the outside. This could cause first responders serious trouble when trying to access occupants in the event of a crash.
The Sprinter 2500 and 3500 recall should begin December 11, 2018.
Dealerships will replace the right-side door locks, but until then owners may call Daimler at 877-762-8267.