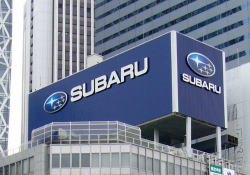 — Subaru has admitted that it falsified mileage and emissions data in Japan from December 2012 to November 2017, although the automaker says the illegal actions may have started as early as 2002.
Subaru announced in January that outside investigators found evidence showing vehicles were sold with false mileage claims. Those investigators had already determined the automaker used uncertified employees as inspectors for final certification of the cars before they were sold in Japan.
Employees measured mileage and emissions data and then rewrote the data for public consumption, something Subaru says was standard practice. The automaker found a history of falsifying documents by workers who didn't seem to care that what they were doing was illegal.
The automaker says both supervisors and employees are guilty of the fraud as the supervisors told low-level employees to alter the data, then the process was repeated as employees were promoted and new workers were hired.
Subaru also said its investigation confirmed senior managers and team leaders likely knew the emissions and fuel consumption numbers were fake.
Subaru blames the problems on a lack of knowledge, training and communication, plus weaknesses in the auditing process and a lack of concern on the part of supervisors and employees. Additionally, the system that was in place allowed the rewriting of values in the first place.
Although the automaker admits the measurement values were altered, Subaru claims the original measured values were still within internal standards, therefore a recall isn't required.
According to the automaker, countermeasures have been introduced to prevent the problems from occurring in the future. In addition, Subaru says it wants to be "reborn" as a company that never cheats again.