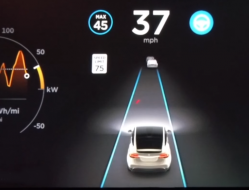 — A Tesla Enhanced Autopilot class-action lawsuit has been settled after customers alleged they paid $5,000 for a system they couldn't use by the date Tesla advertised.
The Tesla settlement includes all U.S. consumers who purchased Enhanced Autopilot with their purchase or lease of a Tesla Hardware 2 Model S or Model X vehicle delivered to them on or before September 30, 2017.
In October 2016, Tesla announced it would release Enhanced Autopilot for its Hardware 2 vehicles which consumers could purchase for $5,000. Tesla told customers the software was "expected to complete validation and be rolled out to your car via an over-the-air update in December 2016, subject to regulatory approval."
However, the automaker started rolling out Enhanced Autopilot features in January 2017, with substantially all promised features delivered by September 2017.
In addition, the Hardware 2 vehicles were supposed to be equipped with certain standard safety features that would be available December 2016, but those features didn't start appearing until January 2017 and were substantially completed in May 2017.
The plaintiffs say they filed the lawsuit because Tesla didn't meet the December 2016 date promised when the vehicles were ordered.
Court documents say there are 32,410 affected customers in the U.S., with 94 class members requesting to be excluded from the lawsuit. And although the original lawsuit argued Tesla should buy back the vehicles, the settlement agreement fell way short of that goal.
According to the final terms, Tesla customers who paid at least $5,000 for Enhanced Autopilot will receive anywhere from $20 to $280 each.
According to the class-action, whether a customer receives the minimum $20 or the maximum $280 will depend on a combination of three things.
What Tesla's said regarding the timing of the release of the Enhanced Autopilot features as of the date the customers ordered the vehicles.
The timing and content of Tesla's Enhanced Autopilot software releases.
The date customers took delivery of their vehicles.
Affected customers include all U.S. residents who purchased Enhanced Autopilot in connection with their purchase or lease of a Tesla Hardware 2 Model S or Model X vehicle delivered to them on or before September 30, 2017.
If there are any residual amounts once funds are distributed to Tesla customers, the money will be donated to the Ohio State University Center for Automotive Research and/or Texas A&M Transportation Institute, Center for Transportation Safety.
Even though no class member will receive more than $280 for their $5,000 Autopilot purchase, the judge says the "settlement recovery is substantial given the size of the class for a consumer class action case."
Attorneys who represented the owners will receive $976,000 in reimbursement for costs and expenses.
The Tesla Enhanced Autopilot class-action lawsuit was filed in the U.S. District Court for the Northern District of California, San Jose Division - Sheikh, et al., vs. Tesla, Inc.
The plaintiffs are represented by Hagens Berman.