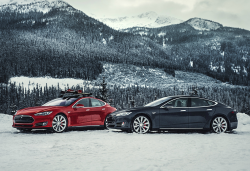 — Tesla has been sued again in Norway over claims that Model S P85D cars are fraudulently advertised and don't reach performance standards as marketed by Tesla.
The arguments concern the alleged horsepower of the cars, with the plaintiffs claiming they don't get the kind of power that Tesla promised in advertisements.
About 80 owners allege Tesla marketed the cars as being equipped with about 700 horsepower from the electric motors when in fact the real horsepower is about 470. The Model S P85D owners seek to receive the same deal as a group of Tesla owners received in a previous Model S P85D horsepower lawsuit filed in Norway.
The issue started when Tesla was ordered by the Norwegian Consumer Disputes Commission to pay each Model S P85D owner about $6,000 based on complaints about misleading advertising concerning the car's horsepower. However, more than 100 owners said the offer wasn't good enough, so they filed their own lawsuit against Tesla claiming the cars had 691 horsepower when they didn't.
The plaintiffs claimed the motor for the front wheels is rated at 224 horsepower and the motor for the rear wheels is 467 horsepower, but those are theoretical numbers that couldn't be reached. According to the lawsuit, engineers determined the cars really have 463 horsepower because of limitations in the electronics and the battery packs.
The lawsuit said Tesla changed the horsepower info in its advertising but it happened too late for many Model S P85D owners.
Tesla agreed to settle the lawsuit days before the case was to begin in a Norwegian court, reaching a settlement where owners receive $9,500 credit with the automaker or cash payments of $7,700.