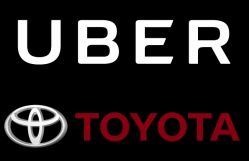 — Toyota is investing $500 million in ride-sharing company Uber to get self-driving vehicles built on the platform of the Toyota Sienna minivan.
The vehicles will be based on Uber's autonomous system and the Toyota Guardian automated safety system, in addition to using Toyota's system for connected vehicles.
The Guardian system is used to protect the vehicle if it encounters a potentially hazardous situation and will allegedly take action if the driver does not react.
Guardian also monitors the driver's eyes for distracted or drowsy driving by detecting if the driver falls asleep at the wheel as the vehicle approaches a curve in the road. When a driver closes his or her eyes and does not follow the curve, the system should step in and steer the car to keep it in the correct lane.
Guardian can also allegedly detect debris in the road ahead of a vehicle in front of it the driver may not see. When the vehicle ahead swerves out of the way, the Guardian system perceives the obstruction and takes over for the driver to steer the car out of the way until the driver is able to take back control of the car.
Both companies say they are working together to create a system that will safely transport passengers in autonomous vehicles that will constantly monitor the environment in real-time.
Toyota and Uber say they want the self-driving ride-sharing vehicles to be owned and operated by third-party autonomous fleet operators.
Uber has experience with collaborating with major automakers because it was a Volvo SUV equipped with Uber technology that hit and killed Arizona resident Elaine Herzberg as she walked her bike across the street outside the crosswalk lane.
The Uber vehicle never slowed down and the driver who was supposed to be monitoring the autonomous vehicle didn't see the woman until it was too late. The death prompted Arizona to suspend Uber's license to test autonomous vehicles and the ride-sharing company soon cancelled self-driving operations in the state.