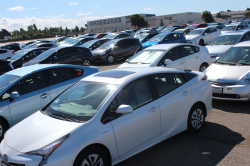 — Toyota is recalling about 645,000 vehicles worldwide to repair airbags that can fail to deploy in a crash, with about 49,000 of those cars in the U.S.
The automaker says the 49,000 in the U.S. include the:
2016 Toyota Prius
2016 Lexus RX 350
2016 Lexus RX 350 F Sport
2016 Lexus RX 450h F Sport
2016 Lexus RX 450h
2015-2016 Lexus NX 200T
2015-2016 Lexus NX Turbo
2015-2016 Lexus NX 300h
Recalled outside the U.S. are the Toyota Alphard, Corolla, Esquire, Highlander, Hilux, Levin, Noah, Probox, Sienta, Succeed, Vellfire and Voxy.
The vehicles have airbag systems that contain pressure sensors and/or acceleration sensors known as "G sensors" used to detect impacts to the vehicles.
Toyota says two different manufacturing problems caused the integrated circuit chips in the pressure sensors and G sensors to have insulation layers that could peel away over time, creating open circuits in the circuit chips.
The airbag warning lights will illuminate and the side/curtain shield airbags and/or front airbags may not deploy, however, the Prius does not have the G sensor issue and the front airbags are not affected.
The recalled U.S. vehicles were built between May 2015 and March 2016.
Toyota and Lexus dealers will inspect the serial numbers of the sensors and replace them if necessary when the recall begins in March 2018.
Affected owners may call Toyota at 800-331-4331 or Lexus at 800-255-3987. Toyota's numbers for this recall are JLA and J0F.
CarComplaints.com has owner-reported complaints about the Toyota Corolla, Prius, Highlander, Hilux, Lexus RX 350, Lexus RX 450h, Lexus NX 200t and the Lexus NX.