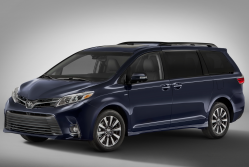 — Toyota is recalling 55 Sienna minivans equipped with 10-spoke allow wheels that can crack while driving.
The 2018 Toyota Sienna minivans have 10-spoke wheels that were made at one facility that may not have properly cooled the spokes during manufacturing. The automaker says hitting a pothole or any kind of impact while driving crack the spokes.
A cracked spoke can cause the wheel to separate from the hub assembly and make driving an adventure.
If you own one of the 55 recalled minivans it's likely Toyota already contacted you by phone, but in April Toyota will mail recall notices to customers who couldn't be reached by phone.
Dealers will replace the 10-spoke wheels if necessary, but owners with concerns should call Toyota at 888-270-9371 and ask about recall number J0J.
CarComplaints.com has complaints from Toyota Sienna minivans.