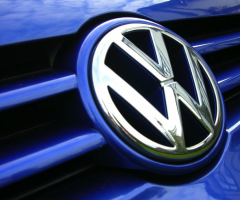 — A Volkswagen 3-liter diesel fix has finally been approved by the Environmental Protection Agency (EPA) and the California Air Resources Board (CARB) to remove illegal emissions defeat devices from the vehicles.
The government says the modifications apply to 3-liter diesel vehicles known as Generation 1.2 diesels and leaves VW with the final job of modifying diesel vehicles that were returned by customers. The automaker will then submit to the government the resale plans for the vehicles once the defeat devices are removed.
The 3-liter diesel vehicles affected by the illegal software include the following:
2013-2016 VW Touareg
2014-2016 Audi A6 quattro
2014-2016 Audi A7 quattro
2014-2016 Audi A8, A8L
2014-2016 Audi Q5
2013-2015 Audi Q7
2013-2016 Porsche Cayenne
It's been nearly three years since Volkswagen was caught cheating on tests conducted to measure nitrogen oxide emissions on 3-liter Audi, Porsche and VW vehicles. Scientists say nitrogen oxides make health problems worse, especially breathing problems and heart disease.
According to the final court order for illegal 3-liter diesels, some of the vehicles would be eligible for repairs while others would be repurchased from owners.
The final fix will apply to vehicles that were bought back from owners and lessees, allegedly without causing any harm to fuel economy or horsepower.
California regulators say they are pleased with the results due to the environmental impact the illegal vehicles have on the state.
According to CARB, the years the illegal vehicles operated in California caused thousands of tons of excess nitrogen oxide emissions, a serious problem for a state with more than 10 million residents living in what the EPA has determined are "extreme non-attainment areas."
Read the latest news concerning the Volkswagen emissions scandal.