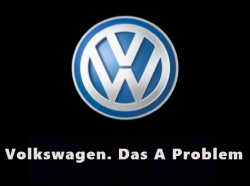 — Volkswagen continues to dig its own grave as the automaker admits another 85,000 diesel cars in the U.S. contain software to defeat emissions tests. The newest list of vehicles include V6 3-liter TDI diesel models going back to 2009, all with at least one "defeat device" installed as sophisticated software.
The problem stems from VW withholding information about the "auxiliary emission control devices" that weren't properly declared when receiving approval in the U.S. on the following vehicles.
2009-2016 Audi A6
2009-2016 Audi Q7
2009-2016 Audi A7
2009-2016 Audi A8
2009-2016 Audi Q5
2013-2016 Volkswagen Touareg
2013-2016 Porsche Cayenne
VW had initially denied the cars have software which alters nitrogen oxide emissions readings during official tests. Immediately after a test is complete, the software resets the emissions back to what is emitted during routine driving. Those nitrogen oxide emissions can be up to 40 times higher than federal standards.
This latest admission will add to the approximately 11 million VW vehicles worldwide affected by the software. In the U.S., almost 600,000 VW are affected which could cost the automaker about $21 billion in fines from the EPA.
Volkswagen says three devices were not declared in documentation, with one device relating to the temperature of the conditioning of the exhaust-gas cleaning system. The other two devices that weren't declared are used to prevent deposits on the metering valve and of HC poisoning of the SCR catalyst with unburnt hydrocarbons.
The EPA says the first device related to temperature conditioning of the exhaust-gas cleaning system is considered a defeat device.
VW has admitted it never told government officials about the defeat software, but the automaker said all reprogramming will be performed in full view of regulators. VW says it wants officials to completely understand the technology before it's approved for use on consumer vehicles.
VW says it will resubmit information to U.S. regulators concerning engine-management software used in the V6 TDI 3-liter diesel engine. All updated software will be installed as soon as it's approved by U.S. authorities.
The automaker says it is committed to finding quick and uncomplicated solutions to fix the cars, but until then, no V6 3-liter TDI diesel engine vehicles will be sold. However, the EPA and Volkswagen say the vehicles are safe to drive.