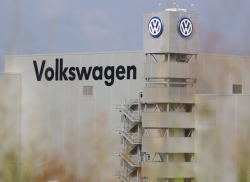 — A Volkswagen age discrimination lawsuit alleges the diesel emissions scandal is causing the automaker to discriminate against employees 50 years and older.
According to the lawsuit, the emissions cheating is the root cause of the lawsuit because VW executives publicly say the company will reinvent itself to take the focus off years of illegal activities.
Dr. Herbert Diess, U.S. brand chief, calls the company rebranding strategy "TRANSFORM 2025+" that allegedly focuses on replacing the old cheating diesel image of VW with an emphasis on electric vehicles and "significant improvements in efficiency and productivity."
The plaintiffs point to a June 2017 press release when Volkswagen made its intentions clear.
"We are expecting our management levels to become younger and slimmer. We are becoming slimmer, leaner and younger. This will make Volkswagen faster and more efficient at the same time as providing new motivation for junior managers."
According to the lawsuit, the goal of TRANSFORM 2025+ is to trade older VW workers for younger workers, eventually cutting 30,000 jobs worldwide.
Plaintiff and former supervisor Jonathan Manlove, 60, says after Volkswagen released its "younger, slimmer" press release, he was demoted and transferred to a position in a different department. Adding to that insult was when VW allegedly informed him the demotion "was in recognition of his hard work."
Manlove claims he has applied for other positions in the company but VW management has rejected any moves.
The lawsuit alleges VW plans on getting rid of employees born between 1955 and 1960 through an "early retirement scheme it euphemistically refers to as natural fluctuations."
The plaintiff says he is only one of many VW employees older than 50 who have been hurt by Volkswagen's "Pact for the Future" to make the company younger and sleeker.
The Volkswagen age discrimination lawsuit was filed in the U.S. District Court for the Eastern District of Tennessee - Manlove v. Volkswagen Aktiengesellschaft et al.
The plaintiffs are represented by Sanford Heisler Sharp LLP.