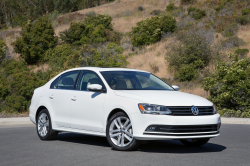 — A Volkswagen safety features lawsuit alleges certain 2016-2017 models have forward collision warning systems and automatic emergency braking systems that don't work properly at speeds over 18 mph.
Plaintiff Michael D' Amore claims Volkswagen's intentional misrepresentation of the safety systems makes the vehicles less valuable than the price for which they were sold.
The proposed class-action lawsuit seeks to include California residents who purchased or leased the following vehicles.
2016-2017 Volkswagen Golf, Golf GTI, Golf R, e-Golf, Golf SportWagen
2016-2017 Volkswagen CC
2016-2017 Volkswagen Jetta
2016-2017 Volkswagen Passat
2017 Volkswagen Golf Alltrack
The lawsuit alleges VW puts customers in danger by misrepresenting the abilities of the safety features in nearly 100,000 vehicles sold in California.
According to the lawsuit, Mr. D'Amore returned his 2014 diesel Passat in 2016 because he intended on buying a 2017 Ford Fusion. However, he was told by employees at the Volkswagen dealership the 2017 Passat had the same safety features as the 2017 Fusion and that they could locate a 2017 Passat for him.
Specifically, like the 2016 before it, the 2017 Passat allegedly had autonomous braking at higher speeds. The lawsuit claims this feature was material to Mr. D'Amore's purchase of the 2017 Passat.
Mr. D'Amore says he purchased the 2017 Passat specifically because it contained safety features that provided for autonomous braking at speeds over 25 miles per hour.
The plaintiff claims Volkswagen never made the safety features available for vehicles traveling in excess of 25 miles per hour. Based on his personal experience while driving his 2017 Passat in excess of 25 miles per hour, Mr. D'Amore did not experience any warning (visual or auditory), nor did his vehicle engage the autonomous braking.
The plaintiff claims Volkswagen knows about the alleged problems based on results of tests conducted by the Insurance Institute for Highway Safety (IIHS).
According to the lawsuit, not one affected VW vehicle tested by IIHS had any high-speed autobraking that would reduce the speed in a meaningful way with the vehicle traveling more than 25 mph.
The Volkswagen safety features lawsuit was filed in the Superior Court of the State of California, County of Ventura - Michael D' Amore, et al., v. Volkswagen Group of America, et al.
The plaintiff is represented by Moss Bollinger, LLP, and Neifert Khorshid, A PLC.