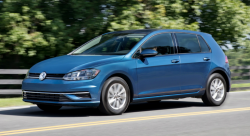 — Volkswagen is recalling more than 33,100 Golfs that could roll away because the keys can be removed from the ignitions without the shift levers in PARK.
The 2015-2018 Volkswagen Golfs and Golf SportWagens have silicate on the shift lever micro switch contacts that is the root cause of the problem.
Dealers plan on installing additional switches and circuit boards once the recall begins.
The automaker didn't say more about the recall other than it should begin in September 2018.
Golf owners may call Volkswagen at 800-893-5298 and make reference to recall number 37L5.
CarComplaints.com will update this page when the government releases additional details. Until then, read complaints from owners of Volkswagen Golfs and Golf SportWagens.