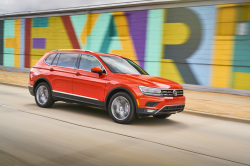 — Volkswagen is recalling its 2018 Volkswagen Tiguan long wheelbase SUVs to replace the rear shock absorbers.
VW says the shock absorbers have lower loops that can separate because of a faulty welding machine at the plant.
More than 7,000 SUVs are affected by the welding problem that was created by a misalignment of the arc welder torch used to attach the loop to the base assemblies.
The recalled long wheelbase SUVs were built between January 15 through March 9, 2018.
The automaker says the problem can occur without warning, but if there is warning it will likely be noise coming from the rear suspension while driving.
Volkswagen dealers will inspect and, if necessary, replace one or both rear shock absorbers when the recall begins June 25, 2018.
Owners who have questions about their 2018 VW Tiguans should call 800-893-5298. Volkswagen's number for this recall is 42i7.
The 2018 Tiguan long wheelbase SUV may be new but it's been recalled before. VW said in November 2017 that more than 5,000 Mexican-built Tiguans had tail lights that were too dim.
CarComplaints.com has complaints from owners of Volkswagen Tiguan SUVs.