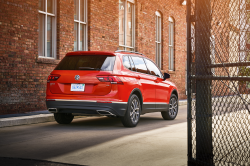 — Volkswagen is recalling more than 5,500 model year 2018 Volkswagen Tiguan long wheel base SUVs with backup lights in the tail light assemblies that may not be bright enough.
That small problem must be fixed or else the SUVs won't comply with federal safety standards concerning lights and reflective devices.
The recalled SUVs were built only in Mexico, the home of the supplier for the tail lights. VW learned of the problem in August when employees in Mexico discovered the lights weren't bright enough.
The source of the problem was the way new employees were trained at the tail light supplier, in addition to a lack of quality control at the company. Volkswagen says the backup lights were built with "deficient metallization" that leaves the lights too dim.
The tail light recall will begin in December 2017 when dealers will replace the inner tail light assemblies.
If you own a 2018 Volkswagen Tiguan and have questions or comments, contact VW at 800-893-5298 and use recall number 94J9.