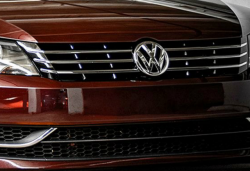 — Volkswagen has problems with exploding airbags, but this time it has nothing to do with Takata, the company that has kept the subject in the news for the past few years.
VW says a German company called the ZF Group is responsible for the recall of more than 2,500 model year 2003 Volkswagen Passat, Jetta, Jetta Wagon, Golf, EuroVan, EuroVan Camper Van and EuroVan Chassis vehicles.
Volkswagen says the driver's side frontal airbags can explode and send metal fragments into occupants, and it doesn't end there with the similarities to the Takata airbag recalls.
VW says the ZF airbags contain propellant that can degrade after long-term exposure to temperature cycling if the initial humidity of the propellant at time of manufacture was too high.
The dangerous airbags have been on the roads for years as VW says the airbags were made in 2002 from one production lot manufactured out of specifications. Volkswagen learned about the airbags during an unrelated investigation when ZF reviewed data on the propellant used to deploy the airbags.
As in the case of exploding Takata airbags, humidity plays a recall in the ZF airbag recall but in a different way than Takata.
Automakers recalled tens of millions of vehicles to replace Takata airbag inflators because the propellant ammonium nitrate becomes unstable over time. Studies show the problem is made worse when the vehicles are located in areas of high absolute humidity.
However, VW says the primary humidity problem occurred during production at the ZF Group plant in 2002, causing issues with the propellant located inside the metal airbag inflators. The automaker didn't say what kind of propellant was used in 2002.
The issue came to the light in April 2018, 16 years after the airbags were made, when supplier ZF contacted Volkswagen about part failures during simulation tests involving humidity. VW opened an internal investigation and considering the automaker doesn't want a repeat of Takata-like airbag explosions, VW decided to order the recall.
The airbag inflator recall should begin August 12, 2018. Volkswagen dealers will need to replace the driver's frontal airbag inflators.
Affected owners may call VW at 800-893-5298. Volkswagen's number for this recall is 69X3.