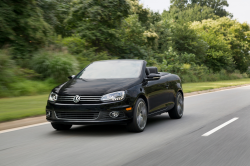 — Volkswagen is recalling 252 of the following vehicles, with 233 of the vehicles needing to be bought back because they can't be repaired.
2012-2016 Volkswagen Eos
2012 Volkswagen Passat
2012-2016 Volkswagen CC
2015 Volkswagen e-Golf
2011-2015 Volkswagen Touareg
2012-2015 Volkswagen Tiguan
2011-2016 Volkswagen Golf
2011-2013 Volkswagen GTI
VW says the vehicles were sold as used after they were no longer needed for company use, but documentation about any possible modifications is incomplete. In short, Volkswagen says it cannot verify the vehicles comply with regulatory requirements.
The automaker says 233 of the vehicles won't be able to be repaired with parts or software updates and therefore will need to be repurchased from customers. The remaining vehicles will be repaired by dealers when the recall begins July 13, 2018.
Owners may contact Volkswagen at 800-893-5298.