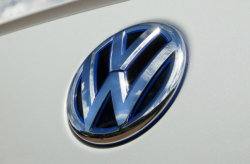 — Volkswagen apparently hasn't spent enough time answering to government regulators and the public about ignoring laws in multiple countries as the automaker has once again admitted it cheated customers.
For a period of 12 years, from 2006 to 2018, VW sold vehicles that were supposed to be destroyed after they were built for test purposes only.
The automaker says nearly 7,000 test vehicles were sold in the U.S. and Europe, sometimes as brand new vehicles.
Test vehicles are manufactured prior to mass production of models that will be sold to the public. Automakers typically destroy test models because they may be drastically different from the vehicles approved by regulators and certified for sale to consumers.
VW says some of the cars likely could have been legally sold after minor changes were made, such as changes to software. Nevertheless, possible differences weren't documented or approved by regulators.
Volkswagen didn't provide data about which models are affected, but the automaker says Audi and Porsche vehicles are not affected.
Current CEO Herbert Diess was allegedly told about the illegal activity in 2016 but didn't inform Germany's Motor Transport Authority until now, a repeat of the same type of behavior by management involved in VW's diesel emissions scandal.
According to Volkswagen, recalls will be ordered but until the vehicles are thoroughly examined by dealers, there is no way to know how many of the cars will need to be destroyed.
Volkswagen may also face lawsuits from customers who were sold test vehicles and German regulators may fine the automaker based on each illegal car.
VW claims it has fixed its procedures for test vehicles, but considering the activity went on for 12 years, the ordeal is another black eye for a company that doesn't seem to care if what it does is illegal or not.