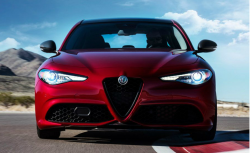 — Fiat Chrysler is recalling nearly 23,000 model year 2018-2019 Alfa Romeo Giulia and Stelvio vehicles because the gas gauges can give inaccurate readings and cause the engines to stall.
Alfa Romeo says the problem is caused by software problems in the body control modules that fool drivers into believing the cars and SUVs have more fuel than they do.
In June 2019, Chrysler noticed an increase of complaints about stalled engines in Italian Giulia and Stelvio vehicles and opened an investigation to learn more about the complaints.
Engineers discovered possible software problems in the fuel level strategy that caused inaccurate fuel gauges, meaning the cars were running out of gas which caused the engines to stall.
Chrysler looked at different aspects as reported by owners, including how the cars were parked, how long the cars were in that position and the resulting fuel levels.
Engineers determined specific conditions caused the gas gauges to go wacky, including parking on a grade of more than 10 degrees, staying in that position for about 30 minutes and having a tank filled between 50-75%.
The automaker issued the recall based on results of the investigation, although Chrysler couldn't find any reports of crashes or injuries related to stalled engines.
About 22,000 of the recalled cars and SUVs are in the U.S., and 935 are in Canada.
Alfa Romeo dealers will update the Giulia and Stelvio body control module software once the recall begins in the U.S. September 13, 2019.
U.S. owners may contact Alfa Romeo at 800-853-1403 and refer to recall number V84.
Canadian customers may call 800-465-2001.