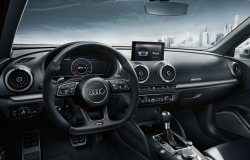 — Audi is recalling nearly 139,000 vehicles because the passenger airbags may deactivate and fail to deploy in crash impacts.
2015-2016 Audi S3
2015-2019 Audi A3
2015-2019 Audi A3 Cabriolet
2016-2018 Audi A3 e-tron
2017-2019 Audi RS3
The automaker traced the defect to an electrical contact that may cause the passenger occupant detection systems to mistakenly malfunction.
The automaker says a "mostly temporary loose contact at the connector" causes the malfunction that turns off the airbag, something that should activate a warning light, a warning message and an audible warning.
Audi opened an investigation in March 2018 because of growing field reports about replacements of the passenger occupant detection systems.
Engineers with Audi and the supplier performed multiple tests to determine the root cause of the failures as new stronger connectors were developed. In addition, engineers changed the way cables were routed.
Audi found a widening of the plug-in contacts at the connectors underneath the seats may cause loose contacts, causing the systems to detect errors.
The automaker says new more robust connectors and better cable routing to the electronic control units should take care of the problems. Better cable routing will help prevent sharp bending, according to Audi.
The recall is expected to begin August 18, 2019, when Audi dealerships will replace the connectors and reroute the cables.
Customers with questions should call 800-253-2834. Audi's recall number is 69Z4.
CarComplaints.com has owner-reported complaints about Audi vehicles.