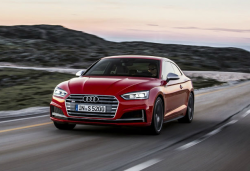 — Audi airbag software has caused a recall of 144,000 vehicles equipped with connecting cables that may oxidize and cause the software problems.
Those software problems can misdiagnose malfunctions and disable the passenger airbags.
2018 Audi S5 Cabriolet
2018 Audi S5 Sportback
2018 Audi S5 Coupe
2018 Audi S4 Sedan
2018 Audi A5 Cabriolet
2018 Audi A5 Sportback
2018 Audi A5 Coupe
2017-2018 Audi A4 Sedan
2017-2018 Audi A4 allroad
Audi was receiving an increasing amount of field reports in May and June 2017 concerning replacements of passenger occupant detection systems.
Audi and the supplier opened an investigation, but by August 2018 a root cause of the problems still hadn't been found until engineers finally realized a connecting cable could suffer from oxidation.
Audi sent dealerships technical service bulletins that told technicians to wrap the cables with zip ties to interrupt the partial surface oxidation of the electrical shielding inside the cable harnesses.
In October 2018, Audi engineers confirmed the self-diagnosis software was too sensitive in case of surface oxidation on the electrical shielding of the cables.
However, Audi says it still "remains unclear at this point though how the issue develops and why certain vehicles/models/model years show a higher claim rate than others and why some vehicles do not show any problems."
According to the automaker, occupants will see illuminated warning lights if airbag malfunctions occur, and the systems will provide chimes and error messages that indicate the passenger airbags are turned off.
Audi dealerships will update the air bag control unit software when the recall begins September 15, 2019.
Owners with questions or concerns should call 800-893-5298. Audi's number for this recall is 74D9.
CarComplaints.com has complaints from drivers of Audi A4, Audi A5, Audi S4 and Audi S5 vehicles.