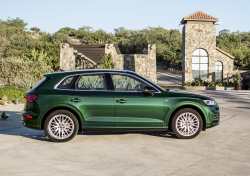 — Audi is recalling more than 148,000 model year 2018-2019 Q5 and SQ5 SUVs in the U.S. and Canada because the wheel arch cover trim may come loose and fly off the vehicles.
The problem may not cause the Audi driver much trouble, but flying trim could put other drivers and vehicles in danger.
Audi says it received reports about loose wheel arch cover trim between August 2017 and August 2018 and caused the automaker to open an internal investigation.
Audi inspected 100 vehicles in the field to determine the impact to safety as engineers worked on a change to production and possible remedies.
Audi found the fastening hooks of the wheel arch trim may not properly latch, and the fastening hooks may have been deformed during assembly which weakened the tension of the connection.
A driver or occupant may notice the edge of the wheel arch trim sticking out and wind noise may be heard when driving.
More than 126,000 of the Audi SUVs are in the U.S. and 22,222 are recalled in Canada.
The 2018-2019 Q5 and SQ5 recall is expected to begin August 2, 2019. Audi dealers will secure the wheel arch trim with additional screws and nuts.
Owners may call 800-253-2834 and ask about recall number 66K6.