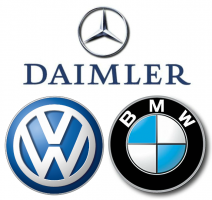 — BMW, Daimler and Volkswagen are looking at the possibility of paying more than a billion dollars in fines if regulators with the European Commission get their way.
Investigators with the Commission raided the offices of all three automakers in 2017 after Daimler agreed to work with the Commission in hopes of catching a break.
The automaker had been down the same road before when in 2016 it paid more than $1 billion to settle charges that alleged Daimler participated in cartel activity with truck companies.
The 2017 raids were followed by official investigations into diesel selective catalytic reduction systems and gasoline-related particulate filters, leading the Commission to announce its most recent actions.
Investigators say the automakers broke antitrust laws from 2006 to 2014 by colluding on the workings of catalytic reduction systems related to nitrogen oxides emitted from diesel vehicles. Additionally, gas-powered vehicles were included in the investigation because of issues with emissions particulate filters.
The EU alleges the automakers colluded to "not improve their products" and "not to compete on quality."
The current allegations claim the automakers worked together to block consumers from buying vehicles with the best available emissions technology.
By limiting technology related to particulate filters, BMW, Daimler and VW could save money even though better technology could control exhaust gases and particulate emissions.
European environmental advocates say tens of millions of consumers were harmed by emissions systems that could have been made cleaner but for three automakers more concerned with profit than human health.
BMW, Daimler and Volkswagen have about two months to respond to the charges.