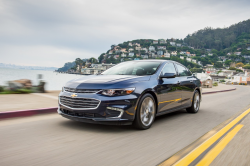 — Chevrolet Malibu fuel injector issues have caused a recall of nearly 182,000 model year 2018 Malibu cars equipped with 1.5-liter turbo engines.
General Motors says software problems can cause the fuel injectors to become disabled.
The Malibu may stall without warning while driving and the disabled fuel injectors will prevent the engine from starting.
A software error can occur in the engine control module and corrupt the data, causing the module to disable the fuel injectors.
GM opened an internal investigation in May 2019 after noticing high warranty claim rates for engine control module replacements in 2018 Malibu cars equipped with 1.5-liter engines. Some of the claims indicated the cars wouldn't start, and in "rare cases" the cars stalled.
Engineers consulted with the module supplier Continental Automotive Systems and found a change of software occurred between the 2018 and 2019 Chevy Malibus. It was later confirmed the change of software was causing failures of the fuel injectors in 2018 models.
General Motors says it's possible a driver will see an illuminated check engine warning light when the fuel injectors fail.
According to GM, 177,276 Malibus are recalled in the U.S. and 4,656 are recalled in Canada.
The automaker doesn't know when the recall will begin, but technicians will reprogram the engine control module software.
Owners of 2018 Chevrolet Malibu cars may call 800-630-2438 and refer to recall number N192221960. Canadian customers may call 800-263-3777.
CarComplaints.com has complaints about 2018 Chevy Malibus and other Malibu model years.