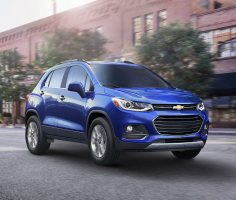 — A Chevrolet Trax recall affects 107,400 model year 2015-2018 vehicles because the lower control arms may not have been properly welded.
General Motors says a joint in one or both of the front lower control arms may break, resulting in the partial separation of the lower control arms from the vehicles. This can cause a front wheel to angle outward and cause the driver severe steering and handling problems.
The recall is an expansion of an April recall of more than 113,000 model year 2017-2019 Chevrolet Trax SUVs after a dealership found a separated lower control arm.
GM says the problem is caused by an out-of-specification component surface that is welded to the bushing housing, but the automaker believed the problem didn't affect Trax SUVs built before July 2017.
However, GM ordered this latest recall because the automaker received complaints about vehicles manufactured between July 1, 2015, and June 30, 2017.
If the control arm partially separates and causes a tire to angle (toe) outward, the tire may be angled to the point of touching the wheel well.
GM says about 93,700 of the recalled vehicles are in the U.S. and nearly 13,700 are located in Canada.
The automaker doesn't know when the Trax recall will begin, but dealers will replace any affected control arms.
Concerned Chevy Trax drivers may call 800-222-1020 and use recall number A192261870.
CarComplaints.com has driver complaints about the SUVs.