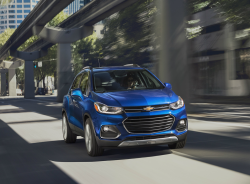 — A 2017-2019 Chevrolet Trax recall will repair problems with joints in the front lower control arms that may have been improperly welded, causing the control arms to separate from the SUVs.
The Chevy Trax recall affects 113,000 SUVs in the U.S.
A General Motors dealer filed a report in November 2018 about a left front lower control arm that partially separated in a 2018 Chevy Trax.
Engineers determined the weld connecting the control arm to the bushing didn't match design specifications.
The automaker asked the supplier about the discrepancy but was told the components were accurately designed. However, GM opened an investigation in January 2019 and in February the supplier admitted the welds didn't meet specifications.
Engineers inspected company-owned vehicles to check the durability of the lower control arm welds and learned of two warranty claims in the U.S.
No crashes are attributed to the faulty welds, but even a partial separation of the control arm can cause serious trouble because the front wheel will toe outward and possibly cause the tire to rub against the wheel well.
GM says the component surface that is welded to the bushing housing is not up to specifications and results in faulty welds to the bushing housing.
Chevrolet dealers will inspect the left and right lower control arms and replace the assemblies if necessary. The automaker says GM will offer reimbursements to owners who paid to repair the control arms.
General Motors doesn't know when the recall will begin, but Trax owners with questions may call 800-222-1020 and ask about recall number A182202370.
CarComplaints.com has complaints about Chevrolet Trax SUVs.