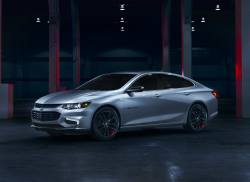 — A Chevy Malibu that allegedly suffered reduced engine power caused the owner to file a class action lawsuit that alleges all 2016-2018 Malibu cars have problems with the accelerator pedal sensors and electronic throttle controls.
While many throttle control systems use mechanical linkages to control the cars, the electronic throttle controls in Malibu cars use sensors and electromechanical actuators.
Powertrain acceleration is controlled by the electronic throttle control and the accelerator pedal position sensor.
According to the plaintiff, a warning message indicates "Engine Power is Reduced" as the car suddenly loses power while driving.
The Malibu owner claims his car is dangerous to drive to himself and others because of the safety hazards associated with a drastic and unexpected loss of power. The problem has allegedly occurred more than once to the plaintiff, with one repair bill leading to an out-of-pocket cost of a few hundred dollars.
According to the lawsuit, asking for help from General Motors got the plaintiff no where.
Customers have allegedly overpaid for their cars due to the supposed defects that cause the powertrain problems, then owners must spend their own money to replace components that allegedly go bad again.
The plaintiff also alleges GM knows there are problems with the cars because of customer complaints and warranty claims related to the Malibu cars suffering reduced engine power.
The lawsuit also alleges GM should have recalled 2016-2018 Malibus to fix the problems with reduced engine power, but the automaker allegedly refuses to take action and refuses to reimburse customers for repairs.
The Chevrolet Malibu class action lawsuit was filed in the U.S. District Court for the Eastern District of New York - Rothschild, et al., v. General Motors, LLC.
The plaintiff is represented by Migliaccio & Rathod, and Levin Sedran & Berman.
CarComplaints.com has complaints from drivers of Chevrolet Malibu cars.